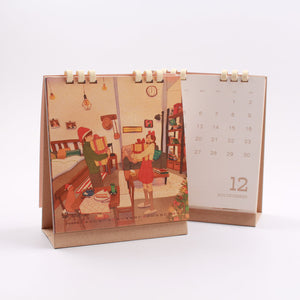 Dec 2023 – Dec 2024, this 2024 desk calendar covers 13 months for year-round planning. This is perfect for your desk to help you focus on easily scheduling daily life without taking up too much desktop space.

Beautiful Illustrations: Puuung's artwork is filled with beautiful illustrations that capture love and warmth. Each month's artwork brings comfort to the heart and reminds us of small joys in daily life.
Functional Design: Puuung's calendar is designed with convenience in mind, Clear display of dates and days of the week aids in effective time management.
Recyclable Materials: Puuung's calendar is designed with eco-friendly paper & spring.
Small Size: Desk calendar size is 6" x 7.5", and covers 13 months from December 2023 to December 2024. Small size desk calendar makes it easy for you to look at the date while making the table neat.
Product details
| | |
| --- | --- |
| Size | 150mm x 180mm |
| Weight | 150g |
| Year | 2024 |
| Format | Desk Calendar |
* You can save on expensive international shipping costs by purchasing it with other physical items. Also you can purchase it on Amazon. https://www.amazon.com/s?me=A2FK9CAAEGNND9
* 한국에 거주 중이신 분들은 퍼엉 공식 홈페이지에서 주문 가능합니다.